projects
Below you will find information about some of the projects Steph has been working on independently and collaboratively. The projects represent her work as a dancer, performer, choreographer and artist-researcher. They demonstrate the reach of her professional practice across dance, circus, improvisation, theatre, and technology.
John McCormick & Adam Nash
Eve of Dust is a collaborative performance and installation between a human and a robot. The artwork draws on both the possibilities and anxieties arising from the collaboration between humans and emerging intelligent systems personified in the robot. The artwork uses a Sawyer collaborative robot, an articulated 7-jointed robot arm that somewhat resembles a snake. The robot is able to be used in close proximity to humans, unlike most industrial robots, and will stop before causing physical harm. This enables human partners to physically interact with the robot to co-create a performance of dance and music. The work has two modes: performance mode and interactive mode.
Performance mode is a collaborative duet between the robot and a professional dancer. Using a handheld VR controller to pick out points in space, the dancer is able to choreograph the robot's movement in real time, in collaboration with the robot. The robot's movements generate music in real time, with the rotation, position and motion of the robot determining pitch, rhythm, timbre etc. In this way, the dancer responds to and collaborates in both the robot's movements and the generated music, creating a collaborative dance duet that is unique every performance.
In interactive mode, members of the public can play with the robot using a handheld VR controller to choreograph the robot's movements which, as in performance mode, generates music in realtime. Inviting a playful interaction, people can collaborate with the robot to make a real time robot music and dance performance. People can respond to the robot movement and indeed will find it hard to remain passive in the unfolding duet that is unique to each person.
Technology in the arts has largely been seen as a tool for the creation of artworks by humans. This notion is being challenged as systems become more sophisticated and display abilities to generate works that can be construed as artistic in nature, often guided by human examples.
Eve of Dust explores the development of human collaboration with artistically inclined machines, robots and systems in general. Now systems are able to not only make cars but drive them as well, not just store images but recognise their contents and even diagnose ailments in people contained in those images, our relationship and future dependency on non-human systems is rapidly escalating. Eve of Dust is conceived to appeal to and challenge anyone interested in the future of work and leisure and our evolving relationship with increasingly capable systems.
Eve Of Dust aims to fire the imaginations of all who witness it and engage them in thinking about our lives lived alongside increasingly capable machines. Robots are often portrayed as antagonists or servants of humans. Eve Of Dust invites people to consider a robot as a collaborator in the creation of art - in this case a music and dance work - rather than an industrial servant. Of course, machines, especially computers, have been used in the creation of art for some time now, but Eve Of Dust asks whether a semi-autonomous robot can be considered an artistic collaborator rather than a tool.
The Pinoke Project is a 6 week creative development to create a full-length transmedia dance performance at the cutting edge of artificially intelligent technology, elite contemporary dance practice, and publication. This process will be a collaboration between creative coders, 3D graphics and motion artists, a dance/choreographer, and an embedded dance critic who will work with an artificially intelligent robot, Pinoke, on the creative development of a new stage production as well as the documentation and dissemination of the process. This project is supported by the Victorian Government through Creative Victoria.
collaboration Louis-Philippe Demers
In the midst of the promises and fears surrounding robots and Artificial Intelligence, especially in the manual labour sector, Repeat attempts to imagine the illusory dance moves of the so-called augmented body tainted with the gender stereotypes of human ballet duets.
Repeat shifts the performing body of the assembly line into the performing body onstage, unceasingly carrying out its tasks. The body meshed with the industrial exoskeleton tolerates and sustains strenuous tasks but ironically, it enables those actions to be repeated even more.
Repeat uses passive industrial exoskeletons that are currently deployed in the workplace. This ain't no fiction, this is the future promised to the human worker.
Repeat is kindly supported by the Canada Council's New Chapter and the Creative Lab of the Queensland University of Technology (Brisbane, Australia).
​
Director: Louis-Philippe Demers
Choreographer: Stephanie Hutchison
Dancers: Georgia Pierce, Lauren Sherlock, Charles Ball, Felix Palmerson
meta riffs off the embodied knowledge Steph has gained through working with John McCormick's AI Agent. The strangeness of finding herself working alone in the studio and being met by traces of information embedded within her, from her engagement with the Agent, has produced a new physicality for Steph and also new ways of considering choreographic practice. Taking a step back to ponder what is actually happening it became clear that like her work with aerial apparatus the residual feedback of encounters with the Agent: its' morphologies, textures, sense of weight, buoyancy, the tasks and games developed throughout its' training regime all can offer external frameworks or tasks from which to further develop her own work independently. meta is the first realisation of this new practice.
meta was presented within the Emergence program in collaboration with John McCormick at Metanoia Theatre, Melbourne, August 1 - 3 2014.
meta filmed by Megan Beckwith

Supported by motion.Lab (Deakin University), John McCormick, Metanoia Theatre and Appearition.
Discover more about the work underpinning meta at johnmccormick.info/
collaboration - John McCormick
Emergence by John McCormick, Steph Hutchison and an emerging performing agent, is a duet performed between a human dancer and an artificially intelligent performing agent. The agent has learnt to dance through a rehearsal process with the dancer, sharing the dancer's movement and style. Emergence sees the dancer and agent co-creating an interactive semi-improvised dance performance. Visualisations of their relationship are projected in glorious Stereoscopic 3D. The neural network based agent uses a motion capture system as its sensory input for understanding the dancer's movement. In the second part of the performance, Steph uses the knowledge gained from performing with the digital performer to create an intriguingly new dance vocabulary through her process of ex-quiry. A fair trade for the movement she originally taught the agent.
Emergence is the result of John and Steph's collaborations with Motion.lab and the Centre for Intelligent Systems Research at Deakin University. The artists dreamed of a performance environment that could learn to understand the dancer and collaborate in the creative process of performance making. Emergence is the result.
WORK @ Dancehouse supercharged and overloaded.
In 1982 Julie Moss competed in her first Ironman without ever completing the total distance before. What began as a lark became a struggle for survival and a test of human will.
Moss says that the 'I quit' was just her 'ego trying to self-sabotage,' but her real self was 'that voice that said; "just keep moving forward."' 'There is no limit.'
- Julie Moss in conversation on Radiolab WNYC's
program on Limits 2010, itunes podcast.
The solo WORK, created by Steph Hutchison, is a hybrid performance, interweaving dance, circus arts, improvisation, sports and theatre inspired by the physical journey of Julie Moss.
WORK is fuelled by an interest in pushing the body to its' physical limit. Hutchison explores the notion of dance as extreme sport and emphatically engages her body in rigorous physical practices. Her attention is to muscularity and the performance of effort, work and labour to the point of physical exhaustion. The power, force and endurance of every muscle fibre is presented as a kind of equipment in and of itself.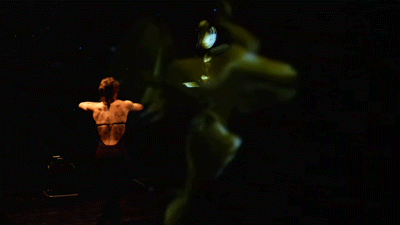 The Crack Up, a transmedia production choreographed by Kim Vincs. Live dancers and virtual performers are set against 3D projected landscapes. Audience members wear 3D glasses and become fully immersed in an environment inspired by F. Scott Fitzgerald's 1936 short story The Crack-Up, a loose-form story of a man losing his grip on reality. The signature interactive device The Crack Up App enhances the experience of live performance along with hi-definition virtual landscapes.
The Crack Up forms part of the "ARC Discovery: Building Innovative Capacity in Australian Dance Through New Visualization Technologies".This project is supported by the Australian Research Council through the Discovery Program (DP120101695)
(Text from Deakin Motion.Lab)
Motion.Lab Arts Acess Victoria
Centre for Intelligent Systems Research
Developing haptic-based dance technology works for the blind and vision impaired.
The Deakin Motion.Lab and the Centre for Intelligent Systems research recently partnered with Arts Access Victoria to develop a proposal to create a new haptics system to provide access to dance for people who are blind or vision impaired. Arts Access Victoria has successfully secured funding from the Australia Council's Digital Research and Development program to develop the new system.
Artists and researchers from Deakin will work with blind and vision impaired dance artists to develop a haptics-based dance technology system that uses haptic technology to map and communicate the body's movement. The project will provide a new approach to enabling blind and vision impaired audiences to access dance, as well as opening up new approaches to haptic art creation, and new techniques for haptic systems used in other applications such as sports, medicine and defence.
The project team includes Deakin Motion.Lab Director, Professor Kim Vincs, Motion.Lab post-doctoral fellow, John McCormick, Director of the Centre for Intelligent Systems Research, Professor Saeid Nahavandi, Deputy Director of the Centre for Intelligent Systems Research, Dr Douglas Creighton, CISR Research Fellows Dr Mohammed Hossny and Dr Shady Mohamed, and Dr Sharon Bentley from Deakin Optometry.
(Text from Deakin Motion.Lab)