projects
Below you will find information about some of the projects Steph has been working on independently and collaboratively. The projects represent her work as a dancer, performer, choreographer and artist-researcher. They demonstrate the reach of her professional practice across dance, circus, improvisation, theatre, and technology. For more detailed information regarding Steph's work please click on the title of the work.
meta riffs off the embodied knowledge Steph has gained through working with John McCormick's AI Agent. The strangeness of finding herself working alone in the studio and being met by traces of information embedded within her, from her engagement with the Agent, has produced a new physicality for Steph and also new ways of considering choreographic practice. Taking a step back to ponder what is actually happening it became clear that like her work with aerial apparatus the residual feedback of encounters with the Agent: its' morphologies, textures, sense of weight, buoyancy, the tasks and games developed throughout its' training regime all can offer external frameworks or tasks from which to further develop her own work independently. meta is the first realisation of this new practice.
meta was presented within the Emergence program in collaboration with John McCormick at Metanoia Theatre, Melbourne, August 1 - 3 2014.
meta filmed by Megan Beckwith

Supported by motion.Lab (Deakin University), John McCormick, Metanoia Theatre and Appearition.
Discover more about the work underpinning meta at johnmccormick.info/
collaboration - John McCormick
Emergence by John McCormick, Steph Hutchison and an emerging performing agent, is a duet performed between a human dancer and an artificially intelligent performing agent. The agent has learnt to dance through a rehearsal process with the dancer, sharing the dancer's movement and style. Emergence sees the dancer and agent co-creating an interactive semi-improvised dance performance. Visualisations of their relationship are projected in glorious Stereoscopic 3D. The neural network based agent uses a motion capture system as its sensory input for understanding the dancer's movement. In the second part of the performance, Steph uses the knowledge gained from performing with the digital performer to create an intriguingly new dance vocabulary through her process of ex-quiry. A fair trade for the movement she originally taught the agent.
Emergence is the result of John and Steph's collaborations with Motion.lab and the Centre for Intelligent Systems Research at Deakin University. The artists dreamed of a performance environment that could learn to understand the dancer and collaborate in the creative process of performance making. Emergence is the result.
WORK @ Dancehouse supercharged and overloaded.
In 1982 Julie Moss competed in her first Ironman without ever completing the total distance before. What began as a lark became a struggle for survival and a test of human will.
Moss says that the 'I quit' was just her 'ego trying to self-sabotage,' but her real self was 'that voice that said; "just keep moving forward."' 'There is no limit.'
- Julie Moss in conversation on Radiolab WNYC's
program on Limits 2010, itunes podcast.
The solo WORK, created by Steph Hutchison, is a hybrid performance, interweaving dance, circus arts, improvisation, sports and theatre inspired by the physical journey of Julie Moss.
WORK is fuelled by an interest in pushing the body to its' physical limit. Hutchison explores the notion of dance as extreme sport and emphatically engages her body in rigorous physical practices. Her attention is to muscularity and the performance of effort, work and labour to the point of physical exhaustion. The power, force and endurance of every muscle fibre is presented as a kind of equipment in and of itself.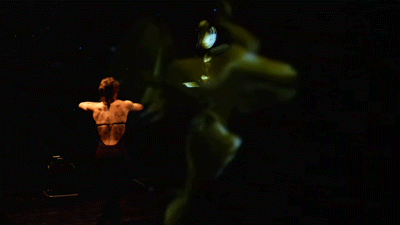 The Crack Up, a transmedia production choreographed by Kim Vincs. Live dancers and virtual performers are set against 3D projected landscapes. Audience members wear 3D glasses and become fully immersed in an environment inspired by F. Scott Fitzgerald's 1936 short story The Crack-Up, a loose-form story of a man losing his grip on reality. The signature interactive device The Crack Up App enhances the experience of live performance along with hi-definition virtual landscapes.
The Crack Up forms part of the "ARC Discovery: Building Innovative Capacity in Australian Dance Through New Visualization Technologies".This project is supported by the Australian Research Council through the Discovery Program (DP120101695)
(Text from Deakin Motion.Lab)
Motion.Lab Arts Acess Victoria
Centre for Intelligent Systems Research
Developing haptic-based dance technology works for the blind and vision impaired.
The Deakin Motion.Lab and the Centre for Intelligent Systems research recently partnered with Arts Access Victoria to develop a proposal to create a new haptics system to provide access to dance for people who are blind or vision impaired. Arts Access Victoria has successfully secured funding from the Australia Council's Digital Research and Development program to develop the new system.
Artists and researchers from Deakin will work with blind and vision impaired dance artists to develop a haptics-based dance technology system that uses haptic technology to map and communicate the body's movement. The project will provide a new approach to enabling blind and vision impaired audiences to access dance, as well as opening up new approaches to haptic art creation, and new techniques for haptic systems used in other applications such as sports, medicine and defence.
The project team includes Deakin Motion.Lab Director, Professor Kim Vincs, Motion.Lab post-doctoral fellow, John McCormick, Director of the Centre for Intelligent Systems Research, Professor Saeid Nahavandi, Deputy Director of the Centre for Intelligent Systems Research, Dr Douglas Creighton, CISR Research Fellows Dr Mohammed Hossny and Dr Shady Mohamed, and Dr Sharon Bentley from Deakin Optometry.
(Text from Deakin Motion.Lab)